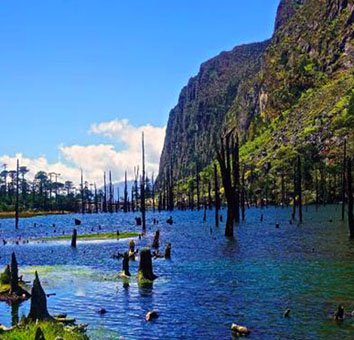 EXOTIC NORTH EAST INDIA : The Seven Sisters
North East India is the land of enormous beauty- a culmination of emerald landscape, azure water body, pristine silence, infinite vastness and mesmerizing local populace. The cultures are unique; witness the rich heritage in its attires, festivals, dance, music, cuisine & hospitality.
A galore of natural wonders, religious grandness, exciting adventure & wildlife, unique cultures & traditions and the majestic festivals; North East India is indeed a 'Paradise unexplored'.
Regions at a Glance :

ARUNACHAL PRADESH

ASSAM

MANIPUR

MEGHALAYA

MIZORAM

NAGALAND

TRIPURA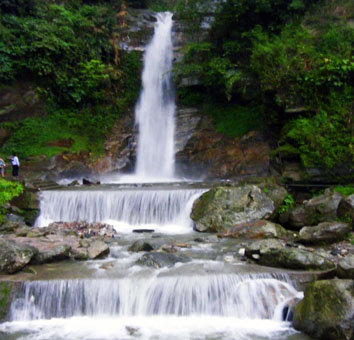 EASTERN INDIA : Simply Exotic !
West Bengal, a state in Eastern India, stretches from the Himalayas in the North to the Bay of Bengal in the South. The Land of varied charms weaves in itself Himalayan beauty, beaches, plains, hill stations and forests.
West Bengal's culture is distinguished by its festivals, music, cinama, cuisine, drama and literature.
Sikkim is celebrated for its beauty, legends & simplicity. One of the smallest states of India, Sikkim lies amidst the grandeur of the Khangchendzonga, lush valleys, rivers & springs and amazing flowers.
Regions at a Glance :

SIKKIM

Gangtok

Pelling

Lachung & Lachen & more...

WEST BENGAL

Darjeeling

Kalimpong & more ...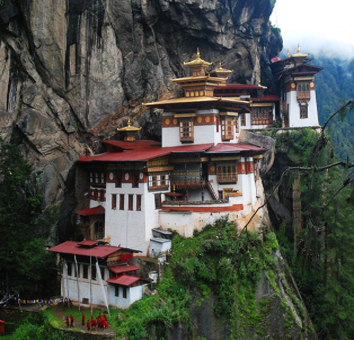 BHUTAN : The Land of the Dragon
Bhutan, Land of the Dragon is famed for its spectacular views of the Himalayan ranges, legendry monuments, cultural charisma and spiritual festivity. Majestic Bhutanese architecture and Tibetan monasteries are a hallmark of Bhutan.
Bhutan is famous for its astounding natural beauty, splendid views criss-crossing its valleys and rivers and the towering Dzongs & Monasteries.
India's Himalayan neighbour, Bhutan lies between China to the north and India to the south. Bhutan is connected to India via Phuentsholing (160 km from Siliguri) and Samdrup Jongkar (110 km from Guwahati).
Regions at a Glance :

PARO

THIMPHU

PUNAKHA

WANGDUE

HAA VALLEY

BUMTHANG

TRASHIGANG
NEPAL : The Mountain Kingdom
Nestles amidst the gigantic Himalayas range between China and India, Nepal displays unparallel beauty and splendor. Its historical and cultural attractions, vibrant festivals, ancient history, the people & natural exquisiteness makes it an exotic destination. The country is also famous for its Hindu and Buddhist heritage.
Nepal has the Base Camp to the majestic Mount Everest, the highest mountain on Earth, standing tall at 8848 metres. It boasts of the closest views of the Everest! Nepal offers exclusive treking and mountaineering opportunities in some of the most famous Himalayan regions.
Regions at a Glance :

KATHMANDU

POKHARA

CHITWAN NATIONAL PARK

LUMBINI

NAGARKOT

EVEREST

MUKTINATH
BANGLADESH : a Unique land to be discovered
A fascinating history, cultural diversity, panoramic landscape, rich flora and fauna, spectacular nature and sandy sea beaches make Bangladesh a unique experience awaiting to be explored.
Bangladesh has the world's longest sandy beach – Cox's Bazar and also the world's single largest mangrove forest- Sundarbans. Oceanic beach of Kuakata, Coral island of Saint Martins and the Lake City Rangamati add to the exclusiveness of the country.
Adventures, river cruises, beach holidays awaits you in Bangladesh!
DHAKA

CHITTAGONG

COX'S BAZAR

SUNDARBANS

BANDARBAN

KUAKATA

SAINT MARTINS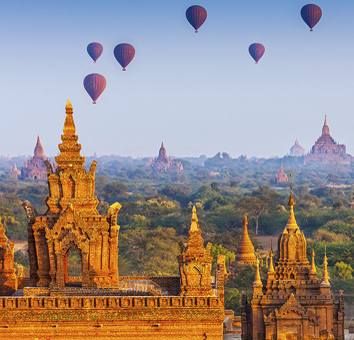 MYANMAR : The Golden Land
Myamnar is nestled between China to its north, Laos and Thailand to its east, Bangladesh and India to its west and Andaman Sea and the Bay of Bengal to its south.
Famed as the Golden Land of Pagodas & Kyaungs, Myanmar also known as Burma and over 80 % its population follow Theravada Buddhism. The mystical grandeur of the country coalesce with the vivid archaeological sites, glittering pagodas, unique cultures and art as well as the colourful festivals. Myanmar's natural beauty prides of fertile plains, vast jungles, majestic snowcapped mountains and exotic beaches !
Regions at a Glance :

YANGON

MANDALAY

BAGAN

MEKONG

KALAW

TAMU

MEKONG
Our Services
SPECIAL DEALS : B2B GROUND SERVICE | CAR RENTAL | HOTEL BOOKING
TRAVEL : TOUR PACKAGES | HOLIDAYS | NE INDIA TOURS | NE NEIGHBOURS
EVENTS : GOVERNMENT EVENTS | CORPORATE EVENTS | SPORTS EVENTS
GROUPS : INCENTIVE GROUPS | LEISURE GROUPS | STUDENT GROUPS
ASSISTANCE : FLIGHT TICKETS | VISA | TRAVEL INSURANCE | FOREX

THE NORTH EAST EXPERIENCE : WILDLIFE | ADVENTURE | TRIBES | FESTIVALS | TEA GARDENS | RELIGIOUS TOURS | THEME TOURS
Copyright @ 2017 | Landscape Safari Inc. All rights reserved
This example use media queries to re-arrange the images on different screen sizes: for screens larger than 700px wide, it will show four images side by side, for screens smaller than 700px, it will show two images side by side. For screens smaller than 500px, the images will stack vertically (100%).
North East India, Northeast India, North East India Tour Operator, B2b North East India, North East India tours, North East India travel agents, visit North East India, Assam, Arunachal Pradesh, Manipur, Meghalaya, Mizoram, Nagaland, Tripura, SIkkim, Darjeeling, Guwahati, Kaziranga, Jorhat, Majuli, Digboi, Dibrugarh, Pobitora, Manas, Shillong, Cherrapunjee, Mawlynong, Dawki, Living root bridge, Jowai, Tawang, Bomdila, Dirang, Ziro, Aalo, Pasighat, Hornbill festival, Kohima, Khonoma, Loktak Lake, Imphal, SATTE, OTM Mumbai, GITB Jaipur, ITB Berlin, WTM London, World Travel Market London, TOAA, IATO, ADTOI, India Tourism, Assam Tourism, Meghalaya Tourism, ITB Asia, TTF Delhi, TTF Ahmedabad, Travel agents in guwahati, Gangtok, Lachung, Pelling, Namchi, Kalimpong, SIkkim Tourism, assam rhino, assam tea, tea tours, tribal tours in north east india, MICE in north east india, Sports events in Guwahati, Car rental in guwahati, vehicle hiring in guwahati, landscape safari, https://plus.google.com/u/0/109445595154129579735